Worship & Nurture
Worship
Sunday School is usually a lively gathering of children of all ages, who enjoy the stories, games and craft activities provided by our team of dedicated, and patient, workers and helpers.
Sunday Afternoon Service has a strong liturgical framework but is flexible in its presentation.
Monday Morning Service every Monday a class from the local Primary School visits Llanfair with their teacher to attend a short service which has been prepared specifically for them followed by squash and biscuits.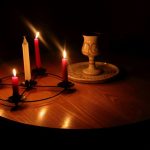 Wednesday Morning Service sees the celebration of a Weekly Communion.
Wednesday Night Compline according to the practice of the Cistercian Order. It was introduced to Llanfair because of our relationship with the monks on Caldey Island.
Friday Morning Service with prayers from the Prayer Cycle of the World Council of Churches.
Nurture
The group meet on Mondays at 11am.
In the absence of a minister, we looked at various models of Christian nurture, including schemes based on the Revised Common Lectionary. In the light of this exploration we decided to return to the scheme Discovering Together, which was developed by and for the community of Penrhys from 1986-2004. It seeks to integrate the Text of the Gospel with the Context of Penrhys in the 21st century.
 The programme is based upon the Church Year, beginning on the Ninth Sunday before Christmas and is centred on the great festivals of Christmas, Easter, Pentecost, and Trinity. In practice the programme is developed by bible readings, hymns and selections from the Christian theologians of the early church. The week will begin with bible study to explore the theme that will be taken through to the services and work with young people and schoolchildren.
A group of 14 local people are involved in the nurture programme which started on the Ninth Sunday before Christmas, 25 October 2015. The group of 14 are committed, gifted and enthusiastic individuals; responsible for leading the bible study and for sharing the theme throughout the week. The nurturers receive guidance and support from Revds. John Morgans and Peter Noble.
The Programme will include learning many skills which can be transferable to other walks of life including leadership at Llanfair .
Taize
A style of Christian worship practised by the ecumenical Taizé community in France, characterized by the singing of simple harmonized tunes, in various languages, interspersed with readings, prayers, and periods of silence. It is used in many of our services at Llanfair.
A group meet to practice every Monday at 1pm-2pm led by Geraint Davies and Friends. Geraint is a local Councillor and member of the Baptist Church in Treherbert.