Education
Homework Club
From its very origin Llanfair has been deeply concerned about developing educational opportunities for all ages on Penrhys. The closest relationship possible has been develo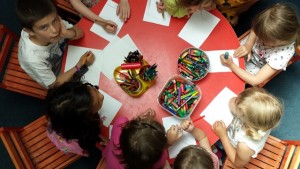 ped with Penrhys Primary School, and the Head Teacher is eager for children to attend Homework Club. Llanfair often collaborates with both the school and Penrhys Partnership to deliver a wide variety of educational projects, which includes art and music.
Junior Homework Club:              Tuesday & Thursday         5.00pm – 6.00pm
Comp. Homework Club:                   Tuesday                             6.00pm – 7.30pm
Football
Llanfair has an enthusiastic and committed team of footballers who are members of the
Ely Valley over 16's Monday night Football League. We feel that the young men develop both physically and spiritually by participating in this activity.